TESTING FACILITIES
Krishna Emech Pvt. Ltd. has robust Testing Facility for checking of wiring harnesses and 100% harnesses are tested ON AUTOMATIC TEST JIG to ensure best quality products. Control Panels are tested as per specification before shipment
HUMAN RESOURCES
Krishna Emech Pvt. Ltd. has a dedicated team of 26 people for both technical and non technical functions to deliver quality products to valued customers.
QUALITY SYSTEMS, CERTIFICATIONS
KEPL Follow ISO 9001:2008 Quality Management System throughout its organization functions. KEPLhas effectively implemented modern tools like JIT with the help of advance planning mechanism for on-time delivery performance of quality products.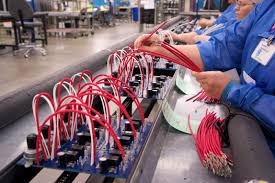 OUR QUALIY POLICY
We are committed in KRISHNA EMECH PVT LTD to purchase, manufacture and supply Quality products and services to our valuable customers to meet their intended needs, in a healthy and a social environment by effective implementation of Quality Management System.
We aim to continually improve our business and become a recognized organization continually upgrading our business practices and human recourses.
OUR VISION
To be a continuously diversify our business staring fromelectrical wire Harness, cable laying, installation, erection and commissioning of instrumentation work, manufacturing Control panel through Consistent, Transparent and Ethical Business Practices.
COMPETITIVE ADVANTAGE
We have CRIED values.
Commitment to all(customer, suppliers employees, society), Responsiveness in our work,Innovative ideas we implement,Economically caring out all functions,with full Dedication
ROADAHEAD
Krishna Emech Pvt. Ltd. is in the process of setting up state-of-the-art Plant in Chakan, Pune for complete set of automotive harness manufacturing setup and foam part manufacturing plant.
Regards,
S K Brahma
Managing Director
M/S. KRISHNA EMECH PVT.LTD.